How to Apply
Effective April 1, 2019, individuals wishing to access WorkBC Employment Services are required to register through the Online Employment Services (OES) portal. Individuals registered prior to April 2019 will be automatically transitioned to the new portal.
In order to apply through the OES you will need to visit the following web page:
Step One: Go to the WorkBC website home page.
Locate Employment Services Get in person or Self-Serve Help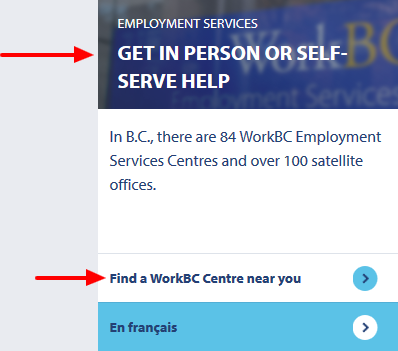 Step Two: Click on Find a WorkBC Centre near you.
Here you will find links to Self-Serve Services and Employment Services. You will be asked to apply for one or the other.
Step Three: Complete the appropriate application.
Your information will be sent to the WorkBC Centre nearest you. A staff person will contact you within 24 hours.
If you need assistance with your application, you can:
Eligibility
Anyone is eligible for Self-Serve Services. Eligibility for Maple Ridge WorkBC Centre services includes individuals who are:
Legally eligible to work in B.C.
Unemployed or may be at risk of losing their job
Qualify through exceptions to program eligibility requirements
Be assessed as needing the service to successfully get a job
For more information on eligibility, see if you are eligible.