Maintain Your New Job
In the current economy, research suggests that workers will change jobs 10 to 15 times! While it is normal to change jobs (preferably on your own terms), there is also a time to focus on keeping the job you have.
Here are some things to consider that will help you keep the job you have:
Check in regularly with your direct supervisor or boss when you begin a new job to ensure you are accomplishing what they are asking.  Ask for feedback to help you transition to the new work environment.
Do your job well. If you struggling to do your job, develop a plan for developing the skills you need.  Check in with your boss to understand what supports might be available through the organization. Reach out to your WorkBC Career Coach for ideas and support.
Stay positive.  If you are unhappy at work, it will show in your job performance.  Whether you love or hate your job, remain positive and put your best foot forward.
Be a team player.  Look for ways to make your colleagues' and bosses' jobs easier. This will elevate your value to the team.
Share your work accomplishments with your boss to raise awareness of your value as an employee.
Show that you are a reliable, organizationally focused employee. Show up on time or a little early and be wiling to stay a little later to complete tasks and projects.
Keep your skills and qualifications current and look at developing new skills that will benefit you in your job.
Be flexible. Employees are often asked to jump in when a colleague is away or has left the organization.  Be open to acquiring new skills to help you complete different roles.
Show initiative and innovation.  Volunteer for new projects or help to suggest strategies for improvement.
Build your internal and external networks.  Building relationships is key to career success.  Through your networks and relationships you can build a reputation and a personal branding that will increase your visibility among employers.
Keep your skill profile current.  Create a personal portfolio to document your skills and major accomplishments such as completion of a work project.  You never know when you may need to update and polish old resume or create a new one.
Riding the Waves of Employment
A new job presents you with a whole new set of things to think about. This online training module will help you adjust to your new job while balancing other life commitments:
Learn about common challenges you might face and get tools to navigate them
Discover ways to identify where you need support and/or additional skills and job knowledge
You can move through this module at your own pace. Remember if you need help transitioning into your new job, there is a Career Coach waiting to assist you at the Maple Ridge WorkBC Centre. Call to make an appointment.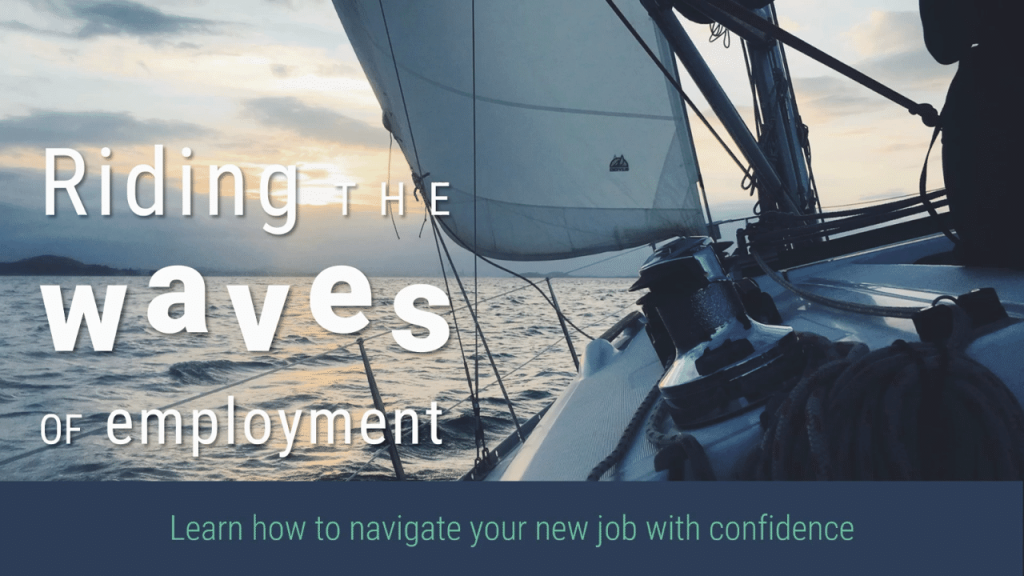 Got questions? Want to learn more? Not sure what to do next?  Get in touch with us!
By Phone: 604 466-4600  By email: info-mapleridge@workbc.ca or Register for services at https://apply.WorkBC.ca